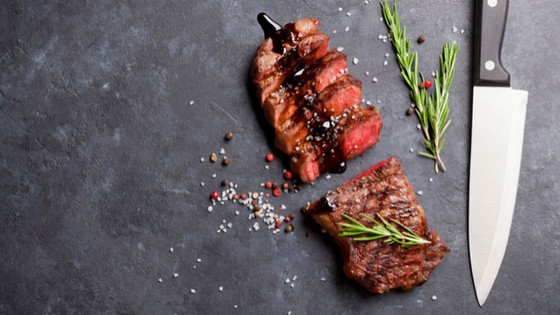 It's time for our monthly ButcherBox update! I swear, this company has the best deals, and this month's box was so awesome, I couldn't wait to tell you about it!
I started with these live stream unboxings a few months ago, and they've been so popular, I've repeated it this month. I searched for organic, humanely raised meat for a long time – I was tired of staring at hormone-raised, corn fed beef at the grocery. It wasn't even fresh. It's a joke.
(Want to get your own box? Use this link and get 6 FREE steaks  – 2 filet mignon, 2 NY strip steaks, and 2 ribeye steaks!)
MY LATEST VIDEOS
If you haven't heard, Butcher Box is a subscription box that offers sustainably-raised and sourced grass-fed and pasture-raised beef, pork, and chicken.
This month, you can get 6 FREE steaks when you get your own box – 2 filet mignon, 2 NY strip steaks, and 2 ribeye steaks!
I get one sent to me every month – the all beef box – and I love that I can have grass fed, organic meat that's raised without hormones sent right to my house – something that's otherwise inaccessible in our area.
If you're looking for healthy, organic food that's humanely sourced and raised, then watch the video below & see why I love this subscription box so much – the animals are given a dignified life and never fed any GMO food products.
If you decide you want to join ButcherBox, then use this link – you'll get 6 FREE steaks when you sign up – 2 filet mignon, 2 NY strip steaks, and 2 ribeye steaks!)