This post is sponsored by Layla Mattress. While I was provided a free mattress to test, the review below is my honest opinion of the product.
Table of Contents (Quickly Jump To Information)
With 2 young kids in our house, as you can imagine, sleep is difficult to come by.
Even more interesting is that my husband and myself prefer two different mattress types – he likes mattresses super soft and I like them relatively firm.
Even better, both of us toss and turn all night – so, a good night's sleep isn't something we usually get.
So, when I got the chance to review a Layla Mattress, I hopped on the opportunity. I'd seen their website, and loved that the mattress is flippable. One side is softer than the other, so my husband and I could figure out which worked for both of us.
The mattresses are made with memory foam, which we both KNEW we wanted in a new mattress (I love that the softer side is made with 3 inches of foam, while the firmer side is made with 1 inch.
We're working outside for most of the day, and we're getting older, so a mattress that could support us after a hard day's work was definitely at the top of our list.
I tend to have hip pain at night from laying in one position – so I was looking for a mattress that would ease the pressure on my hips.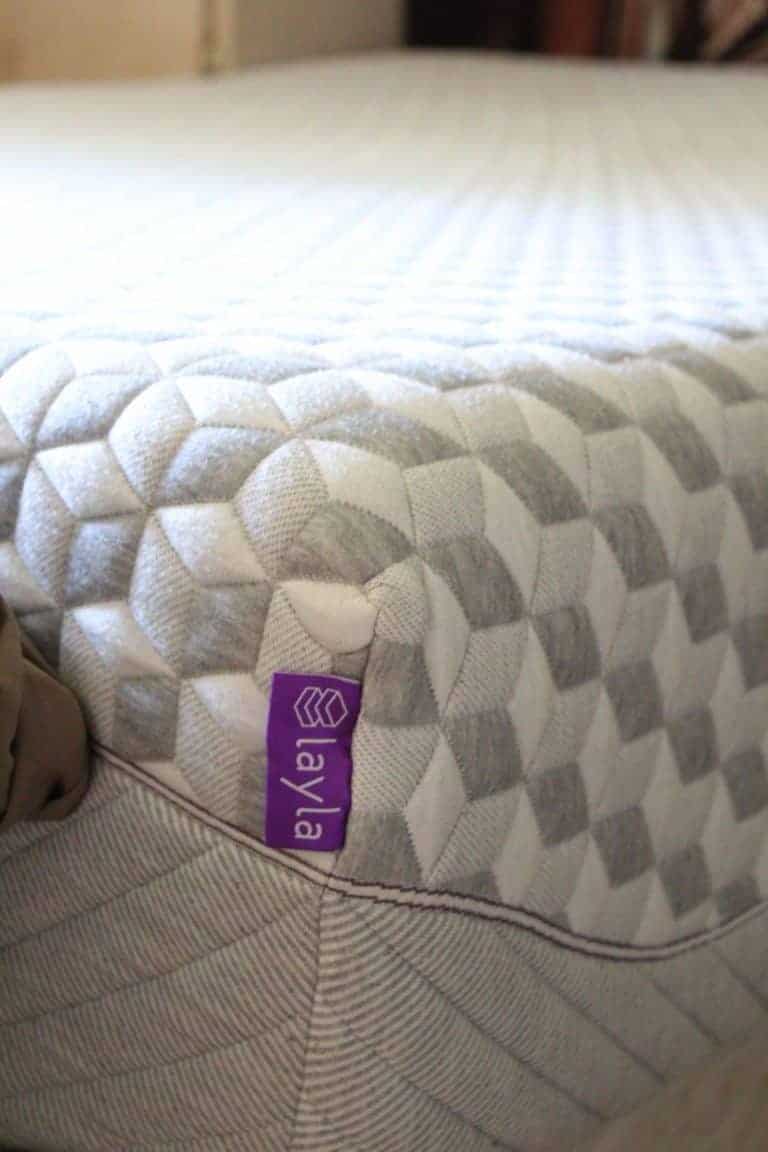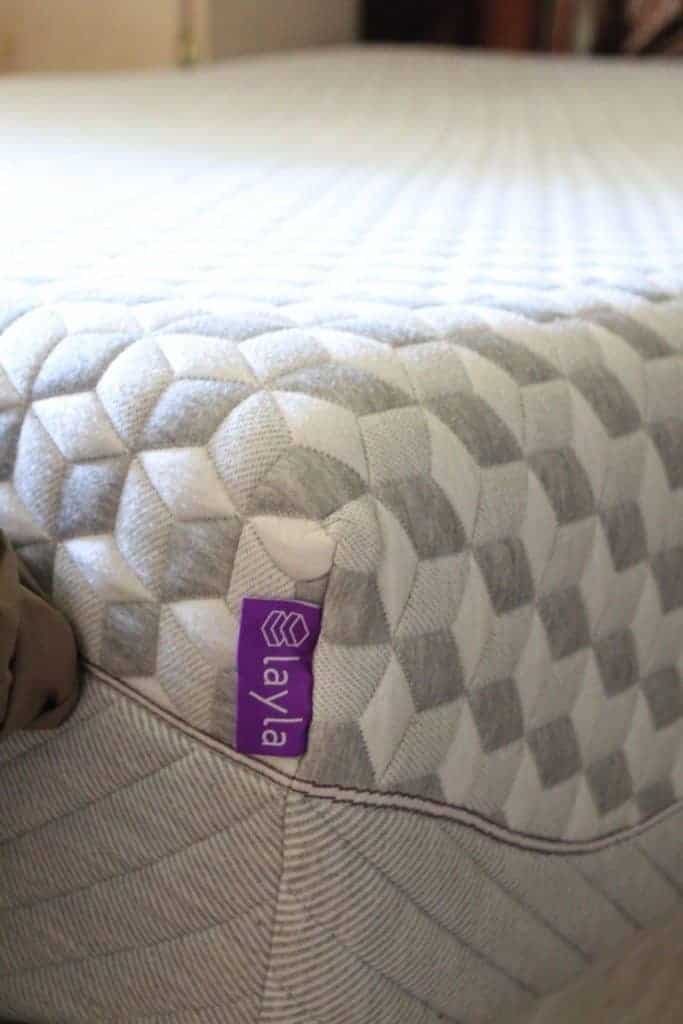 Getting our Layla Mattress
Our Layla Mattress arrived in a box – we couldn't figure out how they rolled it tight enough to actually fit in it!
They're made in the USA (in Arizona), and if you order one, it will take 2-3 days for them to build it, then just a few days extra for shipping.
I LOVE that they didn't build our mattress until it was ordered – no sitting around in factories, getting flattened. (They come with lifetime warranties too!)
I try to buy American as much as possible, and I knew I didn't want to use a manufacturer that produces their mattresses outside the US.
Layla only uses the highest quality materials, and since the mattresses are manufactured in the US, they won't go out of stock for long periods like other brands.
We're trying to be as natural as possible in our home – so we try to avoid toxic chemicals as much as possible.
When I researched Layla before accepting the mattresses, I read that the foams the company uses are CertiPUR certified, and they use with food-based adhesives to attach the layers to each other and non-toxic glues.
(You know how some brands have that faint chemical smell? I didn't detect ANY of that in the Layla mattress because of the food-based adhesives they use.)
Here's what inside the mattress looks like (from the Layla website):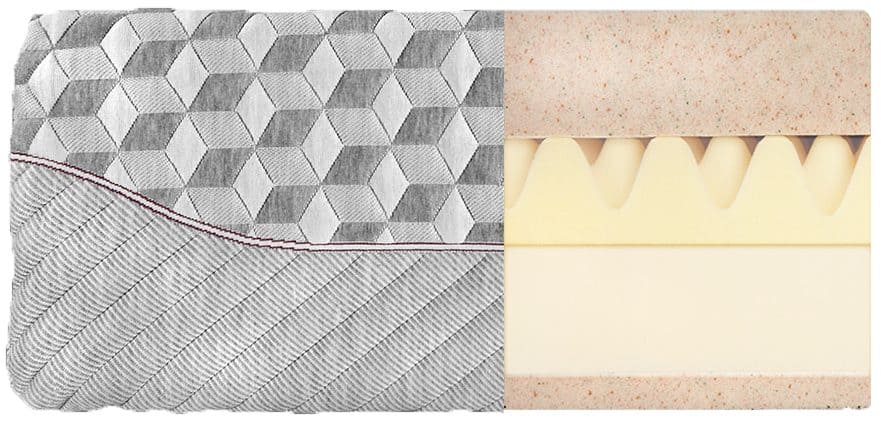 The mattresses are also made without mercury, lead, and other heavy metals, and are formaldehyde-free.
Actually laying on our new Layla Mattress
The first thing we noticed is that the mattress is very cool – it's infused with copper.
We were particularly interested in the Layla brand because we'd heard that copper is known to cool and has healing/medicinal properties.
My husband sweats a LOT at night (yuck), but we found with our Layla, he was more comfortable. That's a pretty big deal around here!
There's also a Thermo-Gel cooling gel in the cover, which helps keep him cool also.
With my hip pain, I was interested in test driving the copper infused mattress to see if it would have an effect on my chronic pain.
For us, the softer side (with 3 inches of memory foam) works well for both of us. It's firm enough for me, and not too firm for him.
There's LOTS of support – I haven't had hip pain since we started using it.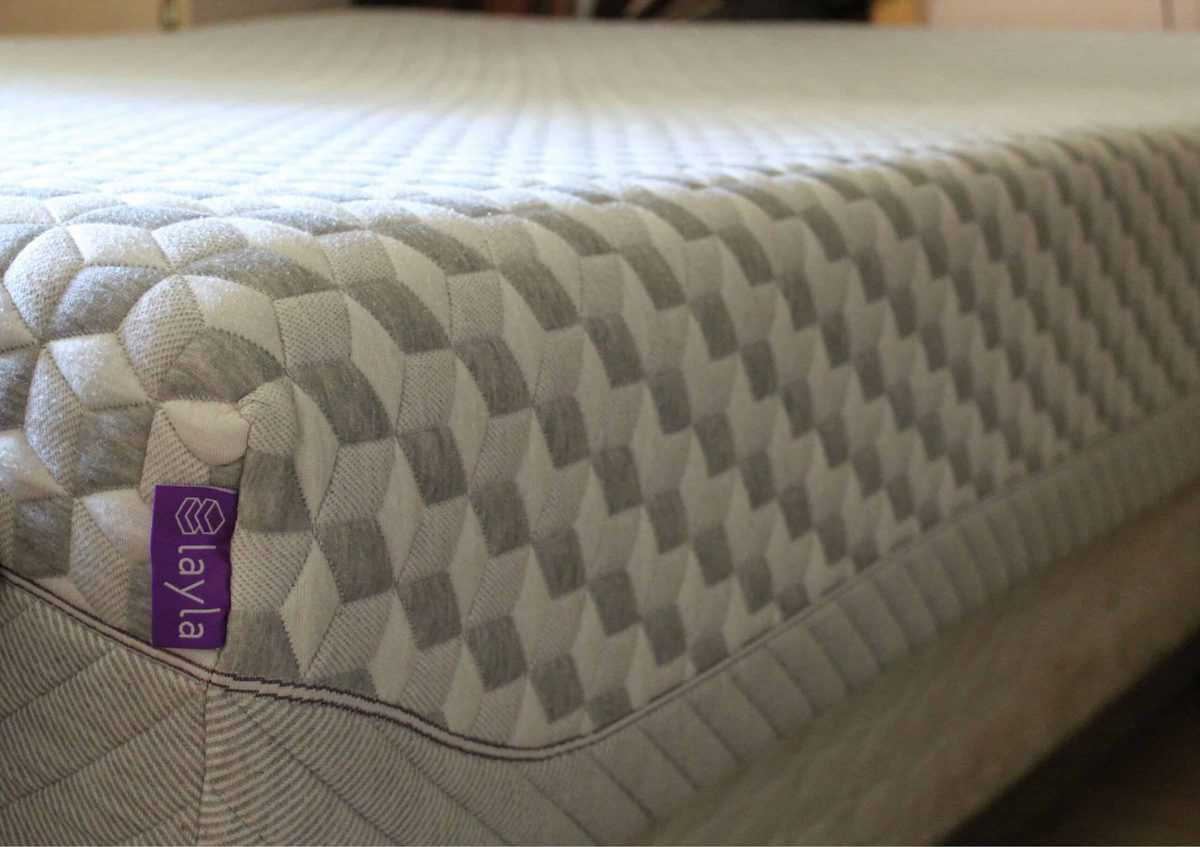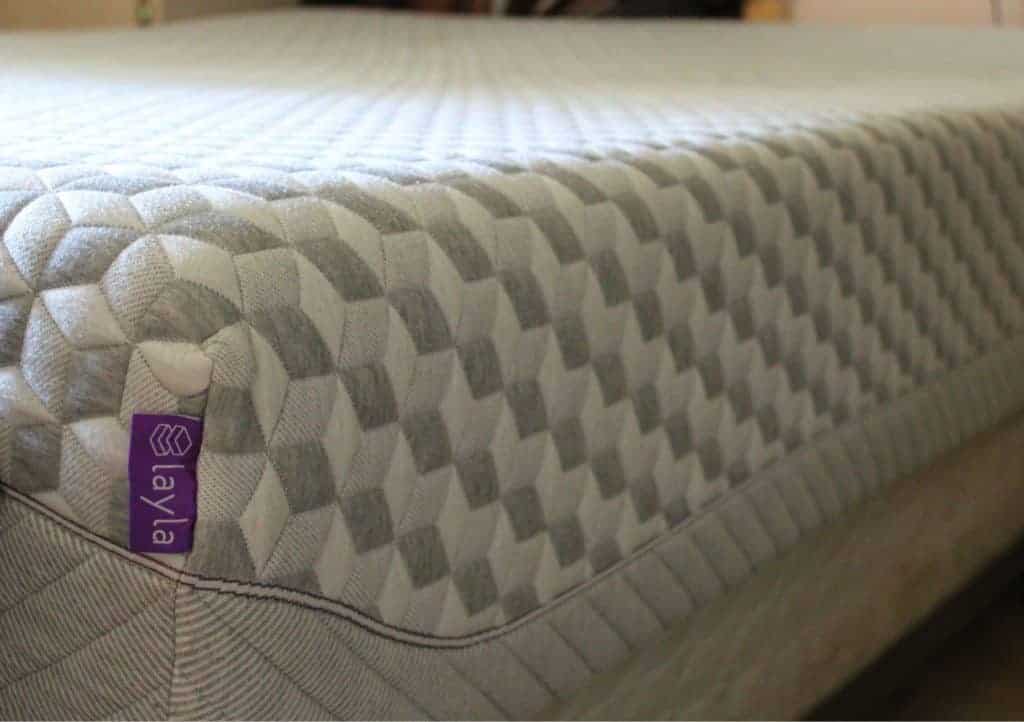 One very important piece of feedback my husband gave me about the Layla is that he sleeps better because when I toss and turn, the mattress doesn't bounce like other brands.
So, as I turn myself in my sleep, he's not woken up – an added benefit we didn't expect but love nonetheless!
Other key information about Layla Mattresses:
You can try your mattress for 120 days, and if it doesn't work out for you, it's fully refundable in that 120 day period. No shipping or return fees!
You can get 0% financing with an independent financier called Affirm. So, you can start enjoying your mattress and sleeping better right away.

Sizes and Prices
We chose a queen size, but you can get your mattress in any size you need:
Twin Dimensions: 38x74x10in $499

XL Twin Dimensions: 38x80x10in $599

Full Dimensions: 54x74x10in $799

Queen Dimensions: 60x80x10in $899

King Dimensions: 76x80x10in $999

California King Dimensions: 72x84x10in $999
My husband is 6 foot, and I'm 5'10. We're big people, and the queen size mattress fits us comfortably, without our feet sticking out over the edge or feeling smooshed together (something that was an issue with our old mattress).
The cost of the Layla mattresses is right in line with other brands, and since it has a lifetime warranty, it's a one-time investment that pays off (especially since I'm having less hip pain – can't put a price on that!)
As of the time I'm writing this, you can save $60 by using the coupon code SUN60.
The bottom line?
Layla has built a mattress that helps us get a better night's sleep. We love the mattress – in fact, the only bad thing I have to say about it is that sometimes my fitted sheet pops off in one corner (I'm not a bed maven so I haven't figured out how to fix that).
It's worked out so well, that I don't think we'll ever try another brand!
Want to get your own? Click here to grab your own Layla mattress! Don't forget to use coupon code SUN60 to get $60 off!
Maat van Uitert is a backyard chicken and sustainable living expert. She is also the author of Chickens: Naturally Raising A Sustainable Flock, which was a best seller in it's Amazon category. Maat has been featured on NBC, CBS, AOL Finance, Community Chickens, the Huffington Post, Chickens magazine, Backyard Poultry, and Countryside Magazine. She lives on her farm in Southeast Missouri with her husband, two children, and about a million chickens and ducks. You can follow Maat on Facebook here and Instagram here.