So I'll admit, I'm a sucker for cute chicken coop decorations. I LOVE them!
I think coop decorations are the best and they add a really nice aesthetic to your backyard.
Obviously how your coop looks isn't the most important thing your coop should include, but it adds a nice touch.
Personally, I think it's a good idea to dress up your coop. It looks cute, and it can also be helpful depending on your neighbors or homeowners association (Read more about raising chickens with neighbors here)
Some of my favorite home decorations are window boxes.
I love window boxes that are filled with flowers. I think they are so cute and really help bring a certain charm to your home. Plus nothing says summer like flowers overflowing out of a window box, am I right?
And since I love window boxes on homes, I decided to add a window box to our chicken coop.
It's one of my favorite aspects of my coop and I think it looks great!
Windows are a really important aspect of your coop. Your chickens need to have proper ventilation because of their delicate upper respiratory system.
And chickens poop. A LOT.
Trust me, you want to have good ventilation because otherwise it gets stinky, real quick.
So, since you already need to have windows in your coop, why not make them cute with a window box?
Not only are window boxes cute, but they can also be really functional! You could plant herbs for your chickens in them!
You could even plant part of your garden in the window boxes on your coop to maximise space! Learn more about gardening in small spaces in my article here.
Today I decided that I would gather some of my favorite window box ideas for your chicken coop for you! So let's get started.
First off, check out this awesome free window box plan. This plan is for a window box for your home, but it should be pretty simple to modify the plans to the size of the window on your coop.
I love that these plans are simple and straightforward (and free!)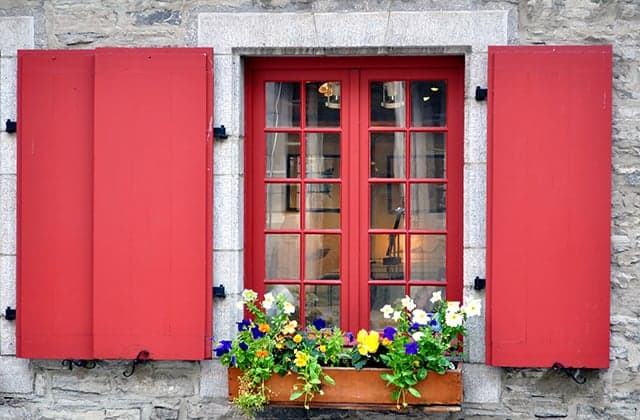 I think these plans will get you a good basic box that you can then make your own for your chicken coop and personalize.
If you aren't into making your own window box, you can buy one like this one.
Be careful when you're choosing one online that the dimensions will fit your chicken coop (most home sized window boxes could be too big for your coop), but buying a window box online definitely simplifies the process (which is really nice sometimes!)
Picket Fence Window Box
This first idea is definitely one of my favorites (but really they're all my favorites) I love the cute picket fence look that this window box has! And it would be so easy to recreate!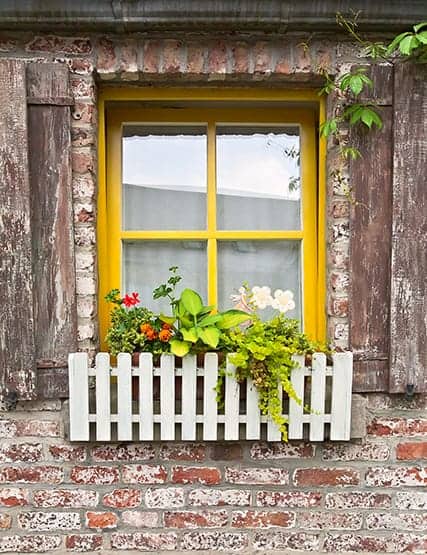 All you need to do to create this window box is to get 12 thins strips of wood (you could even use the small paint mixing sticks that they have at Lowes and Home Depot!)
You would then need to attach each piece to two horizontal boards and wallah you have the front of your box! I love that this idea is simple, but it could add so much character to your coop!
Stand-Alone Picket Fence Window Box
So I clearly love the picket fence look. I love that this box stands on its own! It would be great for a coop that didn't have big enough windows for you to attach an actual window box!
Or you could put one on either side of the door to your coop to create a cute flowery entryway to your coop!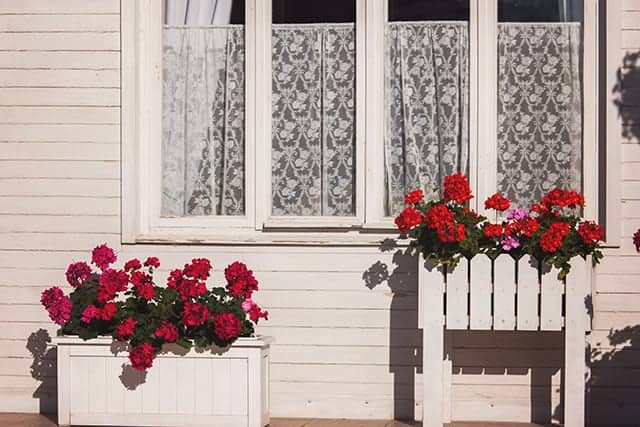 Check out these awesome plans for a stand alone planter box that could be easily modified for your coop!
Dresser Drawer Window Boxes
So I absolutely love this idea from Kammy's Korner! She took an old, broken dresser and used the drawers as the front of her window boxes. It looks so cute and it's a great way to repurpose old furniture! Check out the full tutorial here!
Rustic Wood Window Box
https://www.instagram.com/p/Biwm9Ahggs4/?taken-by=theflowerpotwoodlands
So this window box is absolutely gorgeous! I love the dark colored wood and the contrast with the bright flowers!
This window box is tempting me to try and convince my husband we need window boxes for all of our windows on our home (hint hint hubby)
I think this window box would look amazing on any chicken coop and I think it would look especially good with fresh herbs!
Check out my guide to growing your own herbs, so you can have a gorgeous window box full of yummy herbs on your chicken coop! I also have an ebook all about growing your own herbs for your home and for your chickens! Check it out here!
Terracotta Pots Window Box
This window box is so cute and is super functional! It's a simple board with three holes in it that you can easily place your terracotta pots in! You can easily switch out the pots depending on the look your wanted for you coop!
Simple Red Window Box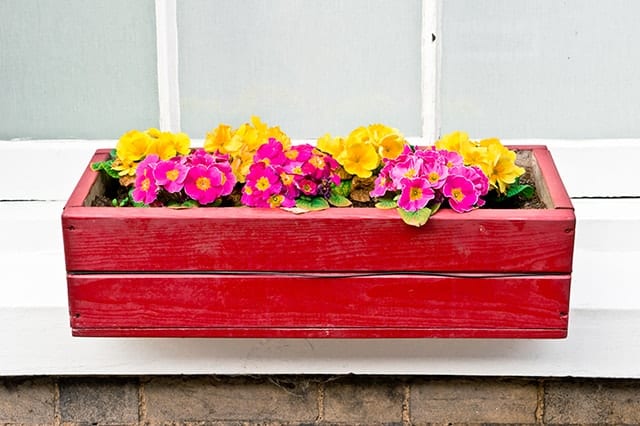 This window box is really simple and would be quick and easy to make. I love the bright pop of color that red window box has and I think it would look really nice with some petunias. Plus I love red! I think it is the perfect color to add to any chicken coop!
Window Planter with Shutters
Ok. Shutters for your chicken coop. I LOVE it. I love the bright blue in this idea, I think it looks so cute! I also love that shutters are really functional for your chicken coop.
They can help keep water out of your coop during storms.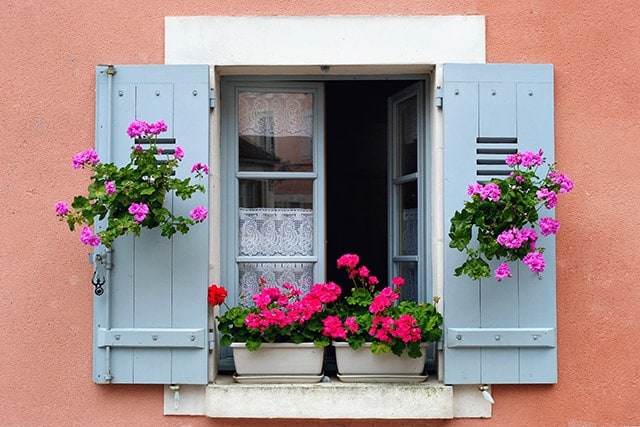 I LOVE the flower pots hanging on the shutters in this idea. I think it really draws everything in this window box idea together.
Planters in Container-Simple Window Box
So this idea is gorgeous! I love the two planters in the metal holder. I found these metal hooks that you can use to hang your planter from the window of your coop!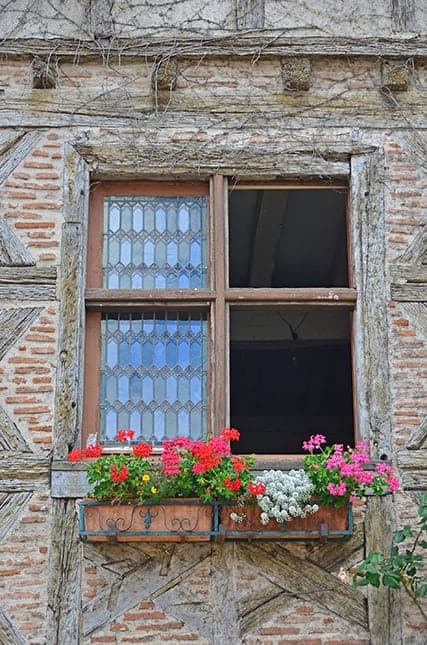 Do you like these window box ideas for your coop? What do you do to decorate your coop? I'd love to hear about it below!
Maat van Uitert is a backyard chicken and sustainable living expert. She is also the author of Chickens: Naturally Raising A Sustainable Flock, which was a best seller in it's Amazon category. Maat has been featured on NBC, CBS, AOL Finance, Community Chickens, the Huffington Post, Chickens magazine, Backyard Poultry, and Countryside Magazine. She lives on her farm in Southeast Missouri with her husband, two children, and about a million chickens and ducks. You can follow Maat on Facebook here and Instagram here.